Last Updated on April 27, 2023 by Tabraiz
COVID -19 became the reason for a significant shift toward digitization. Enterprises confront new challenges in all of their verticals. As technology advances, new solutions to high-tech problems emerge. As a result, enterprise mobility solution are well suited to these modern issues. Many industries have embraced this trend wholeheartedly. This enterprise mobility trend will drive by mobile apps that provide mobility solutions and remote work. Let's closely look at the benefits of EMS in every industry.
An overview of enterprise mobility solution
An enterprise mobility solution is a group of systems that offers employees secure access to information. It enables the employees to design productive and engaging user experiences. EMS consists of varied functions, ensures mobile access, and uses technology for expansion. Firms opt for enterprise mobility strategy to improve and optimize operational security. Additionally, it includes creating UI/UX app designs to engage and motivate employees.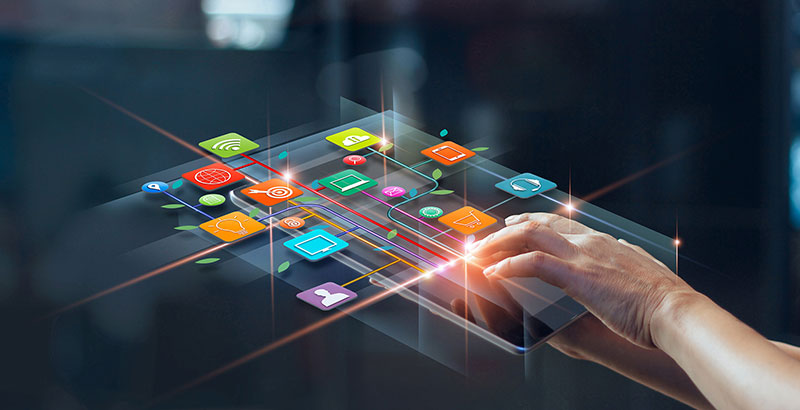 Benefits of enterprise mobility solutions
Here are some advantages of EMS for every business type.
Enhanced productivity
Mundane tasks reduce employees' performance in any field. With enterprise mobility solutions, employees can remotely work and enhance productivity because of time optimization. And this flexibility in work schedules helps employees to strike a balance. They can access, and approve submissions, optimize any project, and increase efficiency without bottlenecks. And businesses can access employees' data and improve teamwork with satisfaction and security.
Reduce cost
EMS offers collaboration multi-systems leading to lower expenditures. Because data retrieval and storage are quick and secure. And this way, employees can remotely access files for projects and enhancement efficiently. And this will leads to less infrastructure and time costs. It will also help on-site employees to work in shared workspaces. Eventually, EMS assists firms reduce time and infrastructure costs.
Improved satisfaction
Customers play an important role in whether or not your business is a success! And every company prioritizes customer satisfaction. They will start conversations through mobile apps, emails, offers, subscriptions, and other means. And this helps your companies build trust and provide quick support, which is a win-win situation for both of you! Enterprise mobility solutions can help you with speed, agility, and customization. And once implemented, it will provide a user interface that is both intuitive and engaging. Furthermore, it promotes seamless and intelligent service delivery, resulting in long-term customer relationships.
Stringent security
Security is the most crucial aspect of EMS helps risk management and offers security solutions. It facilitates secure communication through Mobile Device Management (MDM), Identity and Access Management (IAM), and Mobile Application Management (MAM). As it prevents access only to the authorized person to corporate centers. This technology prevents malware from infecting other devices and systems to ensure ecosystem security.
Use cases of enterprise mobility solution
Here are some of the industries that use EMS for their operations.
Healthcare
COVID-19 is an excellent example of how to help every sector become more digitized. Healthcare professionals were consulting and prescribing remotely via mobile phones. In this case, enterprise solutions provide a safe connection between patients and doctors. Many businesses did the same and received positive feedback.
Retail
Retail is also profited sector, from enterprise applications development with the rise of digitization. Equipping sales staff at retail outlets with mobile devices will help them personalize the user experience on hand and maintain better communication with inventory teams, warehouse teams, and sales staff at other outlets.
Construction
Many architects, site managers, and engineers greatly benefitted from these solutions. They can design, share, manipulate, and share ideas without visiting the workplace. And it helps streamline the workflow and increase productivity.
Conclusion: Enterprises can get the most out of enterprise solutions. You need to know the areas you want to improve with these solutions. For more consideration, consult enterprise mobility solutions for your projects.