Last Updated on January 29, 2023 by Tabraiz
There are different types of Indian designer dresses out there in the market which Indian women love to wear to different functions and events. They make a woman look stylish, elegant and pretty. These days, a new trend is going on in the Indian fashion world. The dresses that are designed are a fusion of Indian style and the western style. In other words, these days, Indo-western dresses are a trend in the market. Peplum style suits, Indo-western jumpsuits, 3 piece Indo-western attires and so on are some of the Indo-western outfits that are becoming popular in the market. Out of these outfits, ethnic gowns or Indo-western gowns are the most popular ones.
In this article we shall be looking at some of the stunning ethnic or Indian evening gowns that you must try at different functions and parties. You can order these outfits from different online stores as well. Like A Diva is one such store in the UK where you will find different types of ethnic and Indo-western outfits such as designer Anarkali suits, sarees, lehengas and so on. You must have different types of ethnic outfits in your closet. Now the time has come to stock the shelves of your closet with different types of ethnic or Indo-western gowns as well.
Let Us Now Have A Look at Some of The Stunning Ethnic Gowns That You Must Try at Least Once.
Peach-Pink Net Embellished Anarkali Gown
When speaking about the stunning ethnic gowns, how can we forget an ethnic or Anarkali gown in the combination of peach and pink? Imagine this gown in the combination of lightweight net and Shantoon silk. Isn't it going to enhance your glam quotient? The well crafted multicolour floral embroidery work on the fabric further enhances the elegance of the gown. Not only that, stone work, sequin work and resham work further add charm to the gown. To complete your look, this gown comes with a dupatta having embellishment at the border.
So, if you want a charismatic look, this gown is a must for you. You can complete your getup with a pair of well crafted earrings having stone work and an elegant bracelet. If you are someone who loves to pair such gowns with real diamond and gemstone jewellery, you can opt for that as well.
Stunning Blue Indo-Western Embroidery Gown
Sky blue is one of the amazing shades that give you a charming look for a party. And if it is well crafted with different works, such as zari work, resham work, stone work, sequin work and floral embellishments, it further enhances your style quotient. This Indian gown will make you look no less than a princess. Apart from this sky blue colour, you can choose for different Indian evening gowns in different other unique colours, such as, light pink, dusty rose pink, coral pink, crimson red and so on. All the intricate designs are made on the net fabric and it also comes with an intricately designed net dupatta. In order to get a complete royal look, add a pair of earrings and a finger ring and thus, your look is complete.
Georgette Indo-Western Anarkali Style Gown in Colour
The colour is one of those unique colours and dresses such as designer Anarkali suits look mesmerising in this colour. Since Indo-western Anarkali style gowns are on trend, this type of gown in this unique colour is definitely going to give you a graceful look. This gown is something that is going to make you look sophisticated. Imagine a georgette gown in this colour with an intricately designed chinon cape in flared sleeves and a dupatta. Isn't it going to give you a mesmerising look? You do not need to put much effort to look gorgeous, if you are opting for this gown. You just need to have an elegant hairstyle and a pair of elegant earrings and you are ready for the party! Apart from this colour, a white Anarkali gown with intricately designed cape and dupatta is something that will give you a regal look.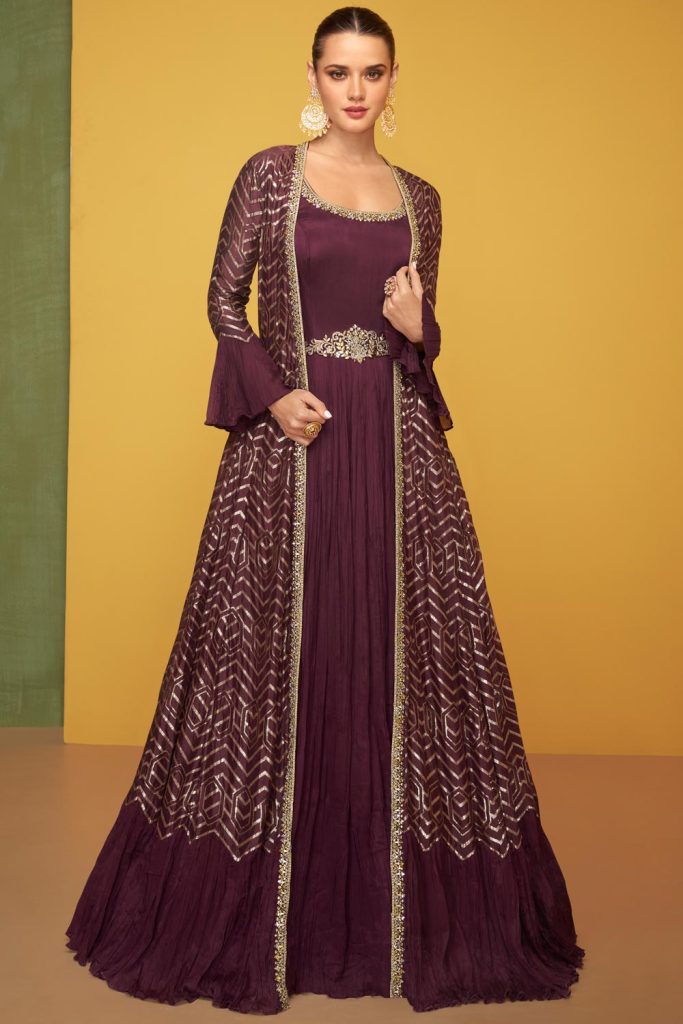 Summing Up
These are some of the famous and amazing ethnic or Indo-western gowns that you must try this party season. Apart from these gowns, you can also opt for different other Indian party wear dresses, such as, designer Anarkali suits, sarees, lehengas and so on.