Last Updated on February 16, 2023 by
Honey Balayage curly hair: what is it?
During a Balayage process, clients' hair is hand-painted with dye to create a natural-looking change in color. The most common transition is dark to light, typically a blonde tone. The technique has gained great popularity in recent years, offering a less intense alternative to ombré coloring.
Honey balayage curly hair is a stunning and popular hair color trend that has been making waves in beauty and fashion. Balayage is a French hair coloring technique where the color is painted onto the hair in a sweeping motion, creating a natural and subtle gradient effect. Combined with a honey-colored shade, it creates a gorgeous and warm look that is perfect for those with curly hair.
This technique works by applying the color to the sections of hair that naturally catch the light, creating a beautiful, sun-kissed effect. Honey balayage curly hair is a low-maintenance look that requires minimal touch-ups, making it perfect for those who want to add dimension and texture to their hair without committing to a high-maintenance style. The warm, golden tones of honey balayage complement curly hair beautifully, enhancing the natural texture and creating a playful, fun, and flirty look. Whether you're going for a relaxed beachy vibe or a more formal occasion, honey balayage curly hair is a versatile and timeless style that will leave you feeling confident and beautiful.
12 best honey Balayage curly hairs ideas
1. Light blonde highlights on a curly pixie
What's with straight hair and pixie cuts? Pixie with gentle curls and honey highlights and light blonde tips has a blend of tight curls and gentle waves. A traditional short hairstyle with a contemporary edge.
2. Dark red highlights on finger coils
People with dark brown or black hair have red pigments underneath their hair. These natural hair colors are therefore enhanced with red highlights. If the color is applied to tight curls, it becomes even more dominant, creating a halo of color.
3. The Coffee Curls
In all likelihood, the person who wanted to swirl their coffee was referring to a curly style that was elegantly highlighted with cool brown highlights near the fringe and sides.
4. Bleach Balayage Ombre Hair
A dark brown root makes this low hairstyle maintenance, creating the perfect background for the blonde ombre. This hair is an ideal canvas for highlighting with bright blonde highlights, and the curls act as a frame and reflect light on her face.
5. Curly Ash Blonde Hair
Every highlight does not have to be bright. You can add some pretty ash blonde highlights to naturally dark blonde curls to give them a subtle but stylish twist. These simple additions catch the sun's rays and help balance the redness on your face. The perfect choice for someone who is trying highlights for the first time.
6. Bright pink highlights on gray hair.
A flash of color will make your naturally gray or silver curls stand out if you have silver tones. This hairstyle lifts the base color with hot pink highlights and adds personality and fun.
7. Cute curly black bob with bangs
There are some hairstyles for naturally curly hair that everyone loves, such as a long black bob. Styles like these are ideal for women whose hair is not particularly curly. Along with the loose waves, the side part frames the face perfectly. Shorter sides can also be tucked behind one ear to give a more casual appearance.
8. Soft, blond waves
In this cool blonde shade, several thin strips of lighter color blend seamlessly into each other. This style has a polished wave, and it is a foolproof choice for day-to-nightwear. Purple shampoo and conditioner will keep your blonde cool and fresh.
9. Pastels with rainbow-color curly hair
It's all about having fun and showing off your style and personality when you color your hair. A bold and playful hairstyle combining pastel rainbow shades is the epitome of spring vibes.
Read more:Ankara Short Gown Style: An Ultimate Guide About Top 8 Best Ankara Short Gown Style
10. Curly comb-over style in medium length.
A side-part comb-over that lands right at the shoulders will take your medium-length curly hair to a new level. It will enhance the vibrancy of your hair, and instead of causing curls to become weighed down by gravity, they will bounce perfectly.
11. Brunette Messy Curly Shag
The naturally curly haircut accentuates the eyes and frames the face beautifully. A style like this is perfect if you want your curls to appear tousled and effortless. Modern-day fashionistas are drawn to the shag for some reason. It's a wash-and-wear cut that you can easily style and maintain.
12. Blonde Balayage Lob with Wavy Layers
Women don't care to spend their precious morning fussing over a blow dryer, so curly hairstyles are always in style. You can update your lobby by finger-combing it, adding a bit of mousse, and letting it dry naturally.
13. Rich, chocolaty curls with high contrast highlights
Consider adding high contrast highlights for added texture, interest, and layers if you have deep chocolate curls. Color contrasts, such as those in these curls will intrigue anyone looking for a statement.
Care instructions for honey blonde Balayage hair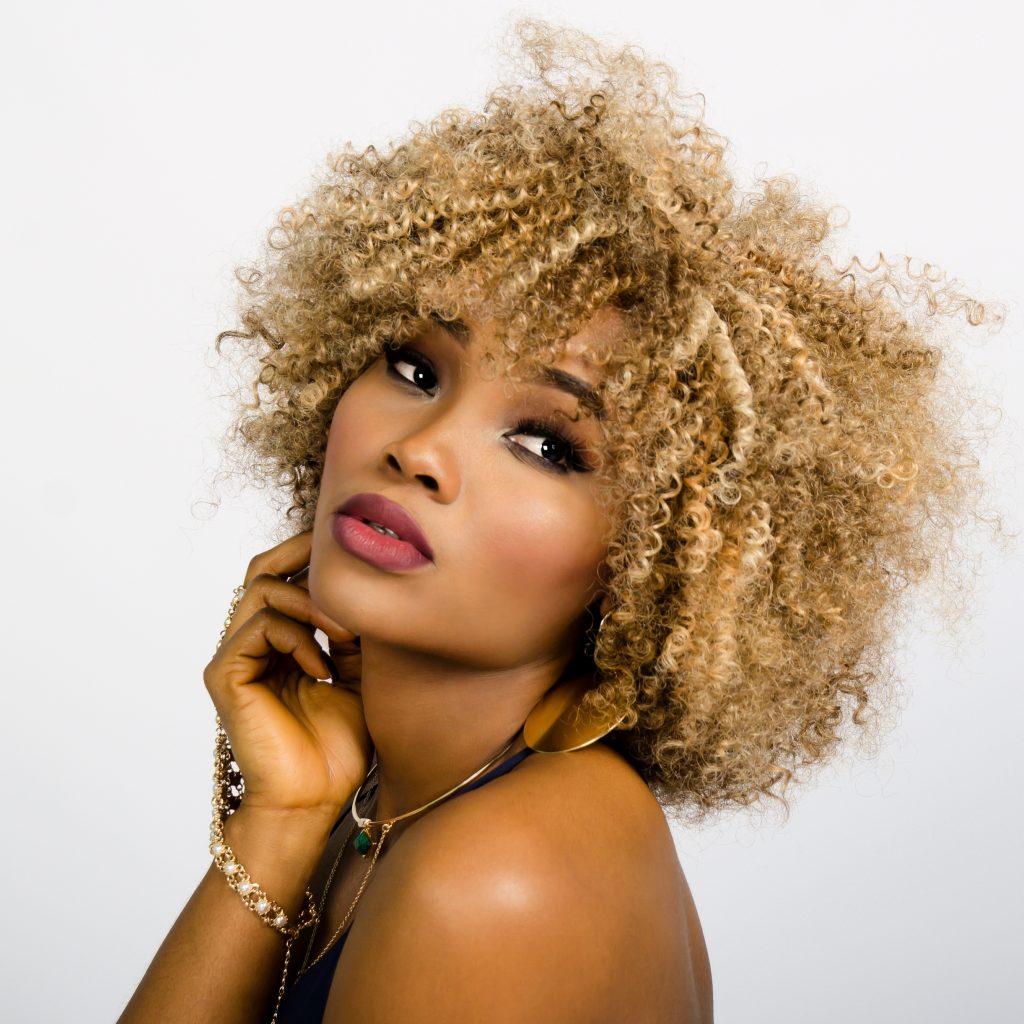 Maintain a regular salon schedule and improve your home color care routine to keep your honey blonde tone healthy and vibrant. Change your hair-care system from the one you usually use for color-treated hair to one formulated. Using this creamy and moisturizing system on dry, color-treated hair revitalizes, softens, and nourishes the hair.
It's crucial to keep your honey hue toned between appointments, so invest in a purple shampoo and conditioner between appointments.
In this system, you'll find ultraviolet pigments as well as a Triple Acid Protein Complex that will strengthen, brighten, and tone blonde hair at the same time.
Bleach might have damaged your strands more than usual if your colorist created your honey blonde shade with bleach. It is recommended to use a hair mask like L'Oreal Professional Series Expert Absolut Repair Instant Resurfacing Masque once a week. Gold quinoa is combined with proteins in this mask, which helps to replenish damaged hair immediately, leaving it softer and shinier.
Can you use balayage on curly hair?
With a few lightning strokes, you can accentuate each curve in your client's organic coils while bringing out the gorgeous texture in their curls.
Cost of honey Balayage curly hairs
In addition to where you live and what else you're doing simultaneously, the price for a Balayage session will significantly vary depending on how expensive or high-end the salon is. When you add additional color to the Balayage process, the cost rises much higher than if you had your natural hair added to the process.
Most likely, Balayage will cost between $100 and $150 at the low end, while $250 to $300 at the high end. The extra effort required to maintain long hair will also cause the price to increase over short hair. From Regis or Jenney salons in a small town to a high-end salon in Beverly Hills, the price for balayage will vary quite a lot.
FAQs (Frequently Asked Questions)